This weekend I helped host/throw an Engagement Party for
Allison & David
. I have known Allison for 10 years...we met at our first job right out of college, Enterprise Rent-A-Car (a.k.a. the job from
hell
). I hated my job, but am thankful for the lifelong friendship with Allison that I gained from working there. We started at Enterprise the same week and quit on the same day....which isn't important to the story, but I just thought I'd share.
The party was hosted at Nordan's home (which is picture perfect, looks like it's right out of magazine and is a great venue for any party....oh and he and has the most amazing kitchen ever - complete with tons of counter space, an awesome gas range and a double oven. LOVE!).
Amanda
did a lot of work the week before the shower (making the pastries, the tarts, the brownies and the sugar cookies). Emily worked on putting together the table tent cards. And I made the table decoration, the banner and pecans ahead of time. (We did have a couple other people who thankfully went in and helped pay for the party.)
Yesterday afternoon, Amanda, Emily and Ashlee-Jean came to my house to finish up the prep work. We grabbed a quick bite to eat for a late lunch/early dinner at Whole Foods and then got to Nordan's around 5:45 p.m.
We finished all of the prep work and started baking everything around 7 p.m. People started arriving at 8 p.m.
Amanda put together a fabulous menu for the party. She is one girl who knows about food and what goes well together. And hopefully this is the start of a beautiful friendship for us - we learned through this process that we have a lot in common. :)
Here's what we served:
Sugar Cookies (with D's and A's on them) -
Chicken Taco Rings (served with sour cream and salsa) - this was the only non-vegetarian thing served, and Pear & Cranberry tart (on the right of this picture) -
Double Tomato Bruschetta
(this was hands down the best thing we served - it was amazing) -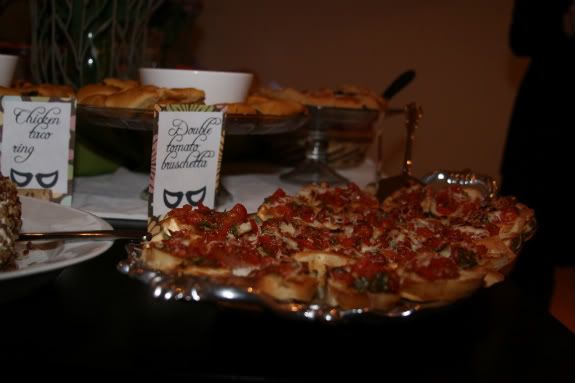 Pastry Wrapped Brie, served with apple slices (not shown) and french bread -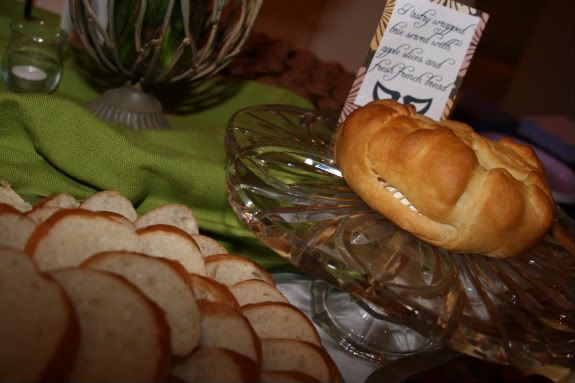 Black Bean & Corn Salad
, served with tortilla chips and pita chips -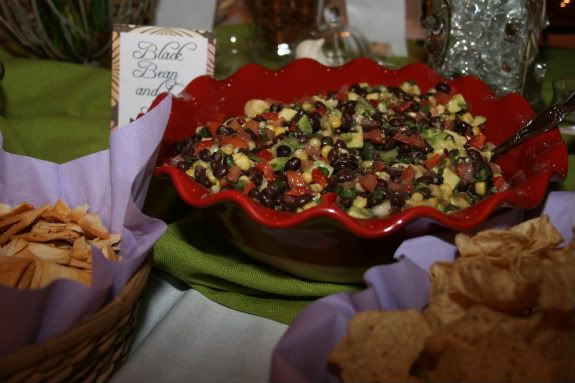 The whole spread (I missed pictures of a few things, so imagine seeing the miniature chocolate cupcakes with nutella frosting, cajun spiced pecans, mushroom and onion tartlets, and a cheese ball served with crackers in addition to the pictures above)-
Here's the centerpiece for the table...Brad cut the branches from our backyard, then I spray painted it white and hot glued on the little purple, lilac, and white buds -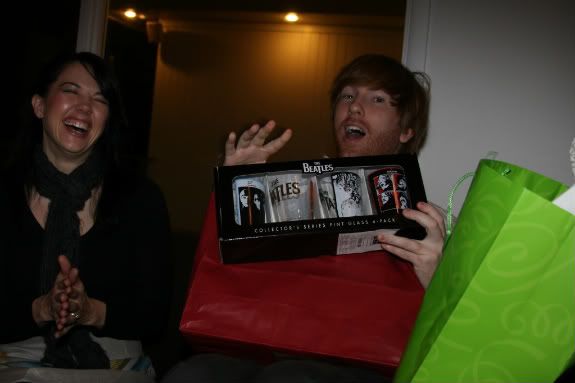 Banner, which I made out of old scrapbook paper Emily donated to the project, lots of leftover ribbon I had laying around, and vintage buttons that I've had a cabinet for years -
The Catering Team, plus Allison - (Amanda, me, Allison, Emily) -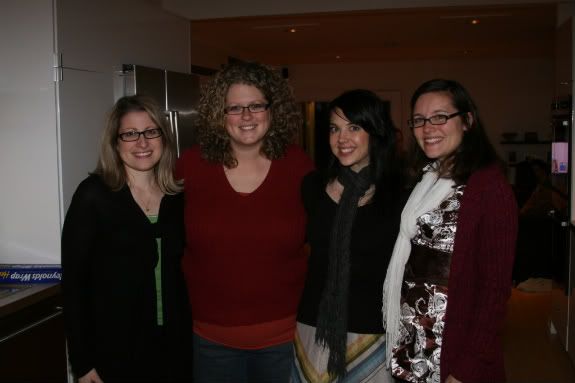 We had a great time hosting the party and it was a complete success! I'm thankful to everyone who lent a hand, helped prep the food, let us borrow serving pieces, and helped pay for the party. Next up - Amanda, Emily and I are opening a catering business. Okay, maybe not, but it
was
fun.