Months ago when Angie and I planned my trip to Denver she had told me how she wanted to take me skiing. Then she separated her shoulder while snowboarding in late November and I was a teensy bit relieved that we most likely wouldn't be going skiing while I was up there - due to her injury.
But then, the week before my trip Angie started telling me about all the warm clothes I needed to bring for skiing. WHAT?! I played along....still thinking it wouldn't happen. Maybe I'd get altitude sickness and not be able to go.
When I arrived in Denver and the plan was most definitely to go skiing. Crap. I am not athletic and am in no shape to ski. I was terrified. I didn't tell Angie or Donny, because this is their thing and they really wanted to take me.
And regarding that altitude sickness - apparently a way to avoid it was to keep hydrated. I carried a water bottle with me the whole weekend and every chance she got Angie would shove it in my face and say, "DRINK".
We started out our day at 5:30 am to pick up a friend of theirs and drove to Keystone, which was about 90 minutes away. By this point I had psyched myself up and was very excited about going. Giddy in fact, like a kid.
I could handle this skiing thing, right? Sure. At one point right before we started skiing I sent Brad a text message to let him know we had arrived at
Keystone
. Here was his response:
"Don't die".
Seriously. Nice, huh?
We rode in the gondola up the massive mountain -
Trey and Donny (with their super cool Never Summer snowboards) -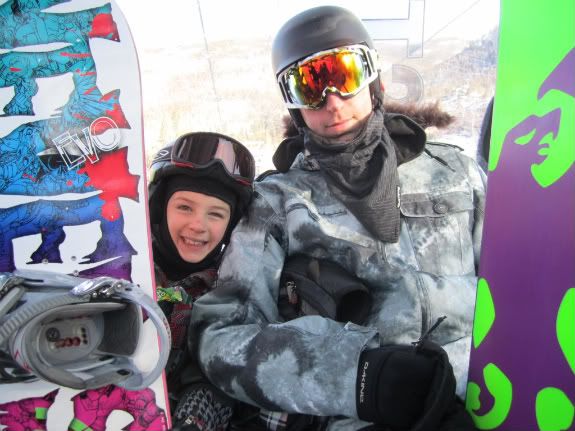 So....I started down the bunny hill. It was pretty easy, in fact I didn't fall even once. I did this twice and Donny told me I was ready for the training hill. It wasn't too long and I made it down that without falling too. I guess seeing me do SO WELL as a beginner, Donny thought I could handle the hardest run in the Rockies: Schoolmarm.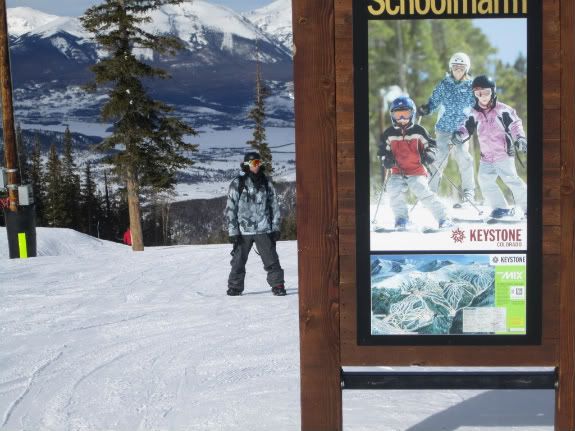 Actually what you can't see in that picture above is that the Schoolmarm run a GREEN run, which is for beginners (apparently). It's the long training run that the instructors take new students down. Donny and Angie served as my instructors. Schoolmarm was 3.5 miles long. Geesh.
Most people can get down Schoolmarm in 10-15 minutes. It took me an hour and a half. For real. I fell a bunch. And rested even more.
Donny and Trey were being so sweet and sticking with me (and Angie) so make sure I was comfortable and ok. Angie promised she wouldn't leave my side, but I felt so bad holding the boys back. So about 2/3 down the run they finally went on down the hill and snowboarded for a while. They actually circled back on us. EMBARRASSING!
Clearly, I was not ready for the 3.5 mile run - beginner or not. It was rough. My legs were screaming the whole time.
You know how when you are lifting weights and you get to the last few that are so hard you want to drop the weight? Then finally your muscles are so fatigued that you literally can't lift it one more time. That's how my legs felt the whole time going down that mountain. But in this case my life depended on it, so every few minutes I had to stop in the middle of the mountain run and take a break. But I really didn't want to die (remember Brad's text) so I really didn't care.
And some of our best pictures from the day came from sitting down smack in the middle of the run (for one of my many breaks).
Props to Angie (and Donny and Trey) for being so supportive and not getting frustrated with me being so slow - even once.
Because I kept myself from going very fast, basically the entire 3.5 miles I was doing the pizza wedge or keeping my skis pointed together in front of me - to slow me down. I only got to the relaxing/stand up/skis pointed straight point ONCE.
My skis looking out over the Rockies -
At the very end of Schoolmarm some goober fell right in front of me and my options were to: a) hit him, b) hit a couple trees, c) fall. So I choose to fall and ended up sliding down the hill on my back - spinning like a turtle. Angie got the last half of my fall on video, but it's from so far away you can't really see what happened. So sad. I would have loved to have that to look back on...and post on facebook for everyone to laugh at.
After we left Schoolmarm we went back to the much shorter beginner runs. I got pretty comfortable on them and that's where Angie and I stayed for the remainder of the day.
But that's okay. I was really comfortable on these training runs and still had a TON of fun.
Angie went down Schoolmarm on her own while I rested at the lodge for a bit (my shins from the boots needed a rest) and she took a fall and her previously separated shoulder was hurting her a lot. Once she got back to the lodge we both decided we were done. The boys decided they were done too.
End of the day picture -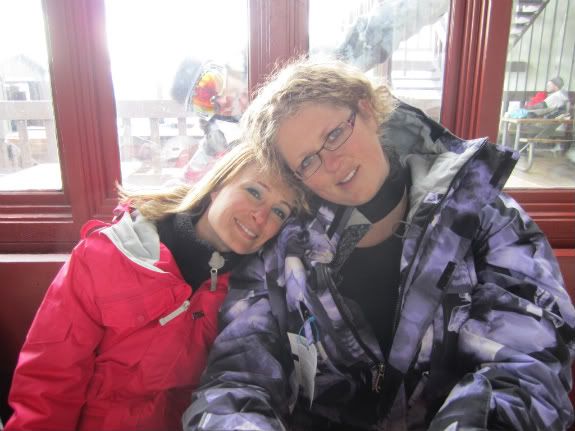 We grabbed some coffee here (which is where we spent a lot of time this weekend)...
and headed to Breckenridge....or as the locals calls it - Breck.....or as I call it - The Breck.
We ate dinner in Breck. Or is it at Breck?
Thanks, Donny and Angie, for treating me to such a fabulous day. Can't wait to do it next time I visit you guys in Denver.