Tonight was our homecoming game for the K/1 Chelsea Hornets.
(Coach Jimmy giving Walker and David a pep talk before the game)
Two days ago a sweet cheerleader, who David went to Kindercare with, showed up at the house to decorate the front door and mailbox for him. She also had a nice little gift to give him. Her mom told me that she picked David because she knew him. :)
Before the game, each player gave a cheerleader a rose and then walked off the field with them.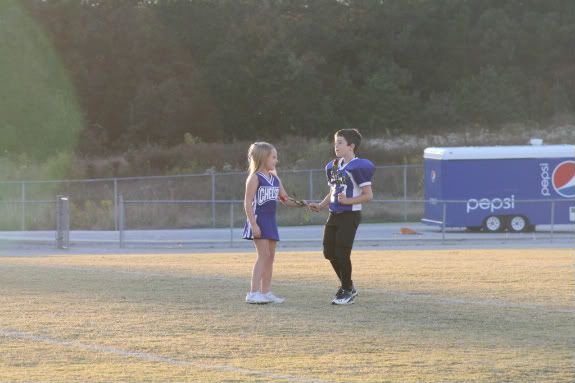 (Please notice that Savannah is looking right at David but he's too shy to look directly in her eyes so he was looking past her).
(How adorable is this?)
Unfortunately, we played Hoover (the only undefeated team in our league). Our boys hung in there and played hard. The first first down came in the 4th quarter along with the first and only touchdown of the game (scored by David!).
We lost, but it was still fun. Our boys play Hoover again in the playoffs so they will be practicing hard the next couple of weeks. I am so glad that our cheerleaders made the game even more special for these players.