My name is Bethany.
I had a few girlfriends over yesterday to make a fall wreath for our front doors. I found this inspiration on
Pinterest
.
We used the following:
- A wreath
- Yarn (one skein - or several of different colors if that's what you want)
- Hot glue gun
- Felt
- Buttons (optional)
- Scissors
You'll want to take the yarn and cut off a few yards and scrunch it up into a ball (this will be much easier than passing the entire skein of yarn through the center of your wreath 300,000 times).
Hot glue the end of the yarn to the back of your wreath and wrap. And wrap and wrap and wrap and wrap. And wrap some more.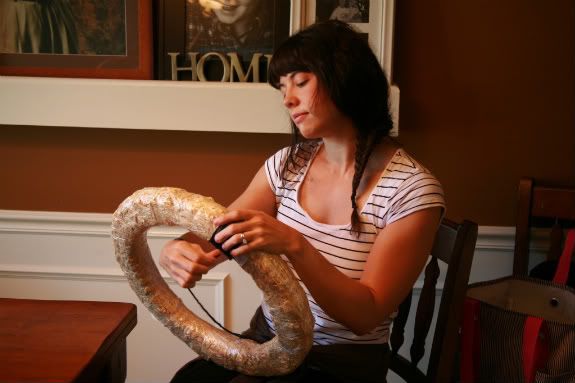 Then you'll end up with something like this:
Then grab some buttons and some felt (not shown).
Make felt flowers.
Here
is a good tutorial on how to make the rose type flowers. I also really like the wreaths she made too.
Then hot glue the felt flowers onto the wreath however you want.
I have a feeling I'll be making more of these for Christmas gifts this year in my effort to do Handmade Christmas 2011!