A few days ago at a business luncheon I was talking to a colleague of mine and he told me that he and his wife had a new baby girl. Of course, I nearly squealed with happiness for them, I luuuurve babies! He told me their story and, boy, it's a good one. But it's not mine to share.
Anyhow, I asked if they were planning to have any newborn pictures of her taken and he said that they hadn't yet decided when to do them. I know from
obsessing over
looking at newborn photography blogs and Facebook pages that newborns need to be photographed between 5 and 14 days old, otherwise they won't sleep. And everyone knows the sleeping pictures with the babies on their tummies are some of the best.
Our tiny subject, who I'll call Baby A., was exactly 14 days old - so she should sleep, right? That's what the pros say. Well, she was wide eyed and bushy tailed as they say (um, who is "they" anyhow?). We didn't get very many sleeping pictures of this little angel - but I got lots of pictures of those beautiful blue eyes (you can't quite see just how blue they are in these first two shots, but I will enhance them in the other pictures I edit...more to come, promise). She was sooo alert. More than any other two week old baby. Ever. She even had really good control of her head. She's a strong girl.
She has a very proud mom and dad and has a great start to life already. She was a perfect little babe and only cried a few times when she was hungry or chilly. We used a heating pad and space heater to try and keep her warm...I think it worked pretty well.
I definitely learned some things from this first newborn photoshoot. I see NOW what I should have seen THEN (like make sure in the other pictures that the blanket isn't covering up her right eye - DOH!). Lessons learned. No worries, mama, if you are reading this - we did get some great pictures.
I am so glad that this sweet family let me into their home to photograph their bundle of love. I am glad to have made two new friends through a business luncheon the other day. I hope to be able to take more pictures of Baby A. in the future.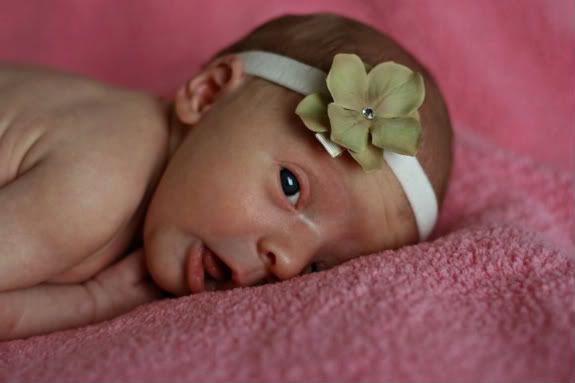 P.S. I seriously need a baby now.